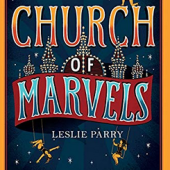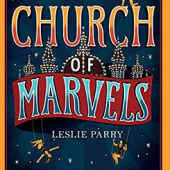 New York, 1899. It's late on a warm city night when Sylvan, a night soiler who cleans out the privies behind the tenement houses, pulls a terrible secret out from the filthy hollows: an abandoned newborn baby. An orphan himself, Sylvan can't bring himself to leave the baby in the slop. He tucks her into his chest, resolving to find out where she belongs.
Odile is the girl on the wheel, target for the famed knife thrower in a show that has long since lost its magic. Odile and her sister, Belle, were raised in the curtained halls of their mother's spectacular Coney Island sideshow, The Church of Marvels, but the sideshow has burnt to the ground, their mother lies dead in the ashes, and Belle has run away to Manhattan.
Alphie wakes up groggy and confused in Blackwell's Lunatic Asylum. The last thing she remembers is a dark stain on the floor, her mother-in-law screaming. She had once walked the streets as an escort and a penny Rembrandt, cleaning up men after their drunken brawls. Now she is married, a lady in a reputable home. She is sure that her imprisonment is a ruse by her husband's vile mother and will do anything to prove her own innocence. But then a young, mute woman is committed alongside her, and when she coughs up a pair of scissors from the depths of her agile throat, a plan is hatched to save them both.
On a single night, these strangers' lives will become irrevocably entwined as secrets come to light and outsiders struggle for acceptance.
My Review
My daughter recommended this book to me several times. I finally sat down and read it at the end of summer. This is very unique and unusual tale. Shifting points of view through a myriad of characters, Parry tells a story full of mystery and intrigue centred upon a circus family.
Odile and Belle are the twins daughters of the mother who started the Church of Marvels, a Coney Island sideshow. And they are both performers in her show. But when an accidental fire destroys the Church of Marvels, killing their mother, her beloved tigers, and the girls' childhood friends, Belle packs up and leaves while Odile is left to cope with the details.
After a mysterious letter arrives for Odile, she goes in search of her sister, unsure of what she will find. At the same time, Sylvan – a nightsoiler – finds a baby girl from a privvy he is cleaning out. The infant appears dead but revives after a few minutes. Unable to simply drop her at an orphanage, he sneaks her home and starts the search for her family, certain that no mother could abandon a baby like that.
What follows is a surprising action-packed adventure. The pacing in this book is perfect. And the characters are fully developed individuals with their own unique perspectives on what is happening in their lives. Parry doesn't shy away from difficult subjects and approaches them with a clear and authentic voice. The intertwining of narratives and the interconnectedness of the plotlines are brought together masterfully in the finale.
The only weakness in this novel is its dark tone. This is not a happily-ever-after, feel good novel. But that's what makes it so real.
Highly recommended! Buylink: https://www.amazon.ca/Church-Marvels-Leslie-Parry-author/dp/0062367560
Share



Leslie Parry
" target="_blank">



---