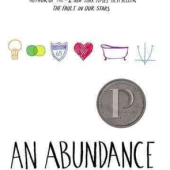 After reading John Green's The Fault in Our Stars, I thought I should definitely read more of his books. I started with An Abundance of Katherines. It is definitely one of my favourite reads!
One thing that made this book unique was the use of footnotes. I thought this was a brilliant idea to explain things to the reader. I also loved the fact that the main character, Colin Singleton, was an expert at anagramming, and an uncontrollable genius.
The overall theme of this book is also interesting. It's more of an average teenager's life than some of the other books I've read in the past. With me being an average teenager, this book is nice to read and think, "Oh, so it's not just me who does that!"
The road trip, meeting new friends, getting a summer job, relationships, breakups are all really appealing. It has humour, complex math theorems, intelligence and a whole lot of girls named Katherine.
I'll be honest. When I first saw the title of this book I thought, "Um, what…? Who would date 19 girls named Katherine?" Answer: A guy named Colin Singleton. But really, a guy who's dated nineteen girls with the same nine letter name? There's got to be a reason behind it. Sounds kind of weird, right? But when you start to read it, it all kind of clicks and it becomes a lot less weird. At least for me it did.
The characters all had strong personalities. They all had their own habits, and ways of saying/doing things. After reading this book I found that I had a really good connection with the characters.
Overall, I loved this book. I would definitely suggest this book to anyone who likes comical, adventurous books. This book is for sure a five out of five because the brilliant humour perfectly balances out the parts that are more serious.
---