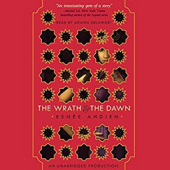 Every dawn brings horror to a different family in a land ruled by a killer. Khalid, the 18-year-old caliph of Khorasan, takes a new bride each night only to have her executed at sunrise. So it is a suspicious surprise when 16-year-old Shahrzad volunteers to marry Khalid. But she does so with a clever plan to stay alive and exact revenge on the caliph for the murder of her best friend and countless other girls. Shazi's wit and will, indeed, get her through to the dawn that no others have seen, but with a catch…she's falling in love with the very boy who killed her dearest friend.
She discovers that the murderous boy-king is not all that he seems and neither are the deaths of so many girls. Shazi is determined to uncover the reason for the murders and to break the cycle once and for all.
My Review
Fractured fairytales are one of my favourite genres. I'm not sure if you consider The Arabian Nights a fairytale but I loved what Ahdieh did with the spark of the original to spin it into her own tale. This book falls into the category of not being able to put down. I loved it.
The characters in this novel, completely won me over. Even Khalid, who seems evil by his actions, won my heart almost immediately. Combine these fantastic characters with an intriguing mystery and I couldn't stop turning the pages.
Fast-paced and exciting, this is a must-read young adult novel that truly bring something unique and new to the table (even while it is entrenched in a ancient tale). Highly recommend!
Buylink: https://www.amazon.ca/Wrath-Dawn-Ren%C3%A9e-Ahdieh/dp/0399171614/
Share



Renee Ahdieh
" target="_blank">



---