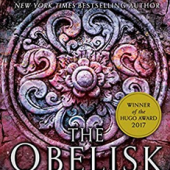 THIS IS THE WAY THE WORLD ENDS, FOR THE LAST TIME.
The season of endings grows darker, as civilization fades into the long cold night.
Essun — once Damaya, once Syenite, now avenger — has found shelter, but not her daughter. Instead there is Alabaster Tenring, destroyer of the world, with a request. But if Essun does what he asks, it would seal the fate of the Stillness forever.
Far away, her daughter Nassun is growing in power – and her choices will break the world.
My Review
This is the second book in The Broken Earth series by Jemisin. Like the first book in this series, The Obelisk Gate was the 2017 winner of the Hugo Award.
I feel that these books offer a series of snapshots into the work that Jemisin has created. As with most fantasy novels, one has to pay attention throughout the entire series in order to pick up on the deeper narratives that are taking place. While these are well written and I enjoyed reading them, neither book has really stuck with me so I'm craving Book 3, as has happened to me with other series.
Still this is a stellar series and especially if you are a fan of epic fantasy novels. Book 1 was stronger than Book 2 as The Obelisk Gate has a feeling of a lot of posturing and set up for Book 3. I'm looking forward to seeing how the series ends.
Share



N. K. Jemisin
" target="_blank">



---