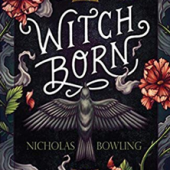 Two queens, two religions, two visions for the future of the nation.
Alyce's mother has just been burnt at the stake for practicing witchcraft. With only a thin set of instructions and a witch's mommet for guidance, Alyce must face the world that she's been sealed off from — a world of fear and superstition. With a witch hunter fast on her trail, she'll need the help of an innkeeper and a boy looking to discover the truth behind his own mother's past.
But as her journey continues, another war rages: a hidden war of the supernatural, of the living and the dead. Good and evil are blurred, and nobody's motives can be trusted. And Alyce finds herself thrown unwillingly into the conflict. Struggling to understand her own powers, she is quickly drawn into a web of secret, lies, and dark magic that could change the fate of the world she is just coming to know.
My Review
With both fictitious characters and those based on real historical characters (including Queen Elizabeth I and Mary Queen of Scots), this is a creatively imagined twist on the history of witchcraft in 16th Century England.
The main character, Alyce, is thrown into a dangerous adventure when her mother is hunted down and burned at the stake. Evading the witch hunters, coming to understand what she really is, and unraveling the mystery related to her birth, keeps Alyce reeling through the entire book.
This is a fast paced read that blends historical facts with fantasy and magic. I thoroughly enjoyed this book and recommend it to readers young and old.
Buylink: https://www.amazon.ca/Witch-Born-Nicholas-Bowling/dp/1338277537/
Share



Nicholas Bowling
" target="_blank">



---