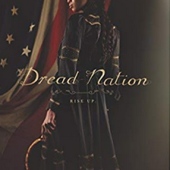 Jane McKeene was born two days before the dead began to walk the battlefields of Gettysburg, Pennsylvania—derailing the War Between the States and changing the nation forever.
In this new America, safety for all depends on the work of a few, and laws like the Native and Negro Education Act require certain children attend combat schools to learn to put down the dead.
But there are also opportunities—and Jane is studying to become an Attendant, trained in both weaponry and etiquette to protect the well-to-do. It's a chance for a better life for Negro girls like Jane. After all, not even being the daughter of a wealthy white Southern woman could save her from society's expectations.
But that's not a life Jane wants. Almost finished with her education at Miss Preston's School of Combat in Baltimore, Jane is set on returning to her Kentucky home and doesn't pay much mind to the politics of the eastern cities, with their talk of returning America to the glory of its days before the dead rose.
But when families around Baltimore County begin to go missing, Jane is caught in the middle of a conspiracy, one that finds her in a desperate fight for her life against some powerful enemies.
And the restless dead, it would seem, are the least of her problems.
My Review
Imagine if the American Civil War was also the scene of the zombie apocalypse? That's exactly what Justina Ireland does in her novel, Dread Nation.
As if slavery and war weren't enough, now Jane has to contend with zombies! Jane's white mother is a plantation owner who had a desire for the black slaves who worked on her plantation. When Jane was born, she insisted on raising her daughter as her own even though (based on Jane's dark skin) the father is not her mother's husband. When that husband returns home from the war infected with the zombie virus, he is killed and Jane is sent to an unorthodox finishing school: Miss Preston's School of Combat. But things don't seem quite right – as friends and family begin to disappear, Jane begins to get suspicious but before she can truly investigate she finds herself in a utopian town out west where things are not quite as perfect as her friends would have her believe.
This was a fun and unique read. The premise is so outside-the-box, that I was intrigued. And Jane is a strong, independent protagonist that had me hooked from page one. A fast paced adventure with zombies thrown into the mix makes this book tough to put down.
Buylink: https://www.amazon.ca/Dread-Nation-Justina-Ireland/dp/0062570609/
Share



Justina Ireland
" target="_blank">



---