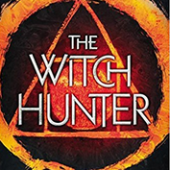 Your greatest enemy isn't what you fight, but what you fear.
Elizabeth Grey is one of the king's best witch hunters, devoted to rooting out witchcraft and doling out justice. But when she's accused of being a witch herself, Elizabeth is arrested and sentenced to burn at the stake.
Salvation comes from a man she thought was her enemy. Nicholas Perevil, the most powerful and dangerous wizard in the kingdom, offers her a deal: he will save her from execution if she can break the deadly curse that's been laid upon him.
But Nicholas and his followers know nothing of Elizabeth's witch hunting past–if they find out, the stake will be the least of her worries. And as she's thrust into the magical world of witches, ghosts, pirates, and one all-too-handsome healer, Elizabeth is forced to redefine her ideas of right and wrong, of friends and enemies, and of love and hate.
My Review
I read both The Witch Hunter and its sequel, The King Slayer, over a couple of days. I could not put these books down. I love the premise of a girl who has been raised to be nothing more than a killing machine. And in addition to her upbringing, magic has been wielded on her to make her utterly unstoppable. But then her entire world shifts and she finds herself being accused of witchcraft.
When she is saved by a powerful wizard and healed by a tall dark stranger who bears a striking resemblance to the pirate, you can't help being hooked as a reader.
With as many twists and turns as one could ask for, this two-part series is captivating. Highly recommended!!
Share



Virginia Boecker
" target="_blank">



---