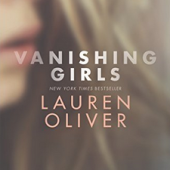 Dara and Nick used to be inseparable, but that was before the accident that left Dara's beautiful face scarred and the two sisters totally estranged.
When Dara vanishes on her birthday, Nick thinks Dara is just playing around. But another girl, nine-year-old Madeline Snow, has vanished, too, and Nick becomes increasingly convinced that the two disappearances are linked. Now Nick has to find her sister, before it's too late.
My Review
I loved this book. Lauren Oliver really is a master at character development and pacing. This book is one of her best so far.
The story is told from the point of view of Nick, the main character, and her sister, Dara. Immediately the reader is drawn to Nick as a sympathetic character. She is a straight A student, has a job and is overall responsible. Meanwhile her sister Dara is a wild child. Partying, drinking, experimenting drugs and other things, it is hard to like Dara at first. But, because the book is told in first person moving between characters' points of view, Dara surprisingly slowly begins to grow on the reader.
Then towards the end of the book there is a twist that is so shocking and brilliantly executed that it left me reeling. I've read many realistic teen novels that have these bomb dropping shifts suddenly revealed; things that make you want to rethink everything you thought you knew about the novel. This was the best one so far!
Share



Lauren Oliver
" target="_blank">



---