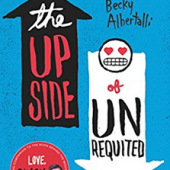 Seventeen-year-old Molly Peskin-Suso knows all about unrequited love. No matter how many times her twin sister, Cassie, tells her to woman up, Molly can't stomach the idea of rejection. So she's careful. Fat girls always have to be careful.
Then a cute new girl enters Cassie's orbit, and for the first time ever, Molly's cynical twin is a lovesick mess. Meanwhile, Molly's totally not dying of loneliness—except for the part where she is. Luckily, Cassie's new girlfriend comes with a cute hipster-boy sidekick. If Molly can win him over, she'll get her first kiss and she'll get her twin back.
There's only one problem: Molly's coworker, Reid. He's a chubby Tolkien superfan with a season pass to the Ren Faire, and there's absolutely no way Molly could fall for him.
Right?
My Review
This is a lighthearted contemporary young adult novel about your average teenage girl (Molly) and her life. Like most teens her age, all Molly really wants to do is get a boyfriend. Except not really. She has lots of other interests but when even her twin sister has her first relationship, Molly feels left out.
This is a light read and fun. Molly is absolutely adorable. And why wouldn't hipster boy like her? Who wouldn't? She might not be a skinny mini but she's wonderful.
Although for me – a nerdy boy who is a huge Tolkien fan … well, I was rooting for Reid the whole time.
Have a read and see if Molly ends up with a boyfriend or just new friends by the end of the story.
Albertalli has a gift for capturing the true teen voice. Molly is real and the reader can't help empathizing with her situation. A wonderful mix of humour, drama, and adventure – check it out!
Buylink: https://www.amazon.ca/Upside-Unrequited-Becky-Albertalli/dp/0062348701/
Share



Becky Albertalli
" target="_blank">



---