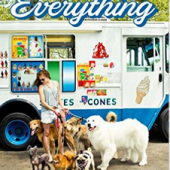 Andie has a plan. And she always sticks to her plan.
Future? A top-tier medical school.
Dad? Avoid him as much as possible (which isn't that hard considering he's a Congressman and he's never around).
Friends? Palmer, Bri, and Toby—pretty much the most awesome people on the planet, who needs anyone else?
Relationships? No one's worth more than three weeks.
So it's no surprise that Andie's got her summer all planned out too.
Until a political scandal costs Andie her summer pre-med internship, and lands both she and Dad back in the same house together for the first time in years. Suddenly she's doing things that aren't Andie at all—working as a dog walker, doing an epic scavenger hunt with her dad, and maybe, just maybe, letting the super cute Clark get closer than she expected. Palmer, Bri, and Toby tell her to embrace all the chaos, but can she really let go of her control?
My Review
I wasn't sure what to think about this book at first. While the characters were great: believable, quirky and adorable; the plot line wasn't exactly engaging. For the better part of the book, the reader is just following Andie around on her aimless summer, hanging out with her friends and walking dogs with her while she tries to figure out her feelings for Clark. In short nothing was happening.
But then I realized that was the point. Matson was setting up the story so that the reader could really connect with Andie and her friends and feel almost as if you were one of the group. And they are a pretty amazing group of people. By the time she stumbles upon a secret Bri is keeping that threatens to destroy the tight knit group of friends and jeopardizes her relationship with Clark, as a reader you are so invested in the story that you can't believe what is happening.
In the end, I really enjoyed this book. It wasn't one I raced through but one that slowly grew on me and hooked me in the long run.
Buylink: https://www.amazon.ca/Unexpected-Everything-Morgan-Matson/
Share



Morgan Matson
" target="_blank">



---