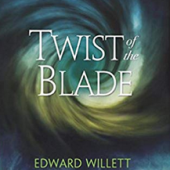 Having saved the first Shard of the sword Excalibur from internet mogul Rex Major (aka Merlin), Ariane and Wally are on the lookout for the second. Wally's worried that the power of the first Shard is already changing Ariane, giving her the strength to do both good and evil … and when she seriously hurts his bullying sister Flish, it seems he might be right.
My Review
This is the second Shards of Excalibur book I've read. I love the premise of this series – a female protagonist on the quest for the lost pieces of the famous sword. Ariane has been given her mission by the Lady of the Lake and in this incarnation the Lady's brother is the evil Merlin. Wally, Ariane's best friend and sidekick, is ever faithful but in the second book in the series things begin to change.
First, Ariane is more impulsive and aggressive in this book than the first installment of the series. She knows who she is now and isn't going to let the school bullies push her around any longer (even if the leader of the bullies is Wally's older sister). When the girls don't back off, they find themselves in the hospital.
Wally, on the other hand, is starting to have his doubts about Ariane. She is still his best friend and it is obvious he loves her but she also put his sister in the hospital. Merlin, seeing something of Arthur in Wally, manipulates the doubt Wally has to sway him away from Ariane.
When Ariane locates the second shard of Excalibur (in rural France) the only way she can travel there is through the clouds … and she can't take Wally with her. Wally must travel the traditional way via airplane. Seeing the two separated, Merlin doesn't miss his chance and moves in to convince Wally that for Ariane's own safety, he must help Merlin.
I've said before that the second book in a YA series is often the make or break book. Following up a strong debut novel in a series is difficult and many authors struggle with it. But Edward Willett comes through with Twist of the Blade. This was a fast paced, entertaining second book in this series, which also incorporated character development and a depth to the story that was missing in Book 1.
Twist of the Blade ends with the perfect cliffhanger … Ariane is alone at the end of the book making decisions as to her future course of action. Wally, meanwhile, is with Merlin in Toronto. I can't wait to see what is in store for our young characters  in Book 3.
Buylink: https://www.amazon.ca/Twist-Blade-Shards-Excalibur-Book/dp/1550505998/
Share



Edward Willett
" target="_blank">



---