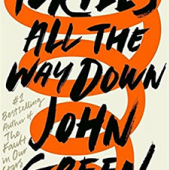 Sixteen-year-old Aza never intended to pursue the mystery of fugitive billionaire Russell Pickett, but there's a hundred-thousand-dollar reward at stake and her Best and Most Fearless Friend, Daisy, is eager to investigate. So together, they navigate the short distance and broad divides that separate them from Russell Pickett's son, Davis.
Aza is trying. She is trying to be a good daughter, a good friend, a good student, and maybe even a good detective, while also living within the ever-tightening spiral of her own thoughts.
My Review
How can John Green books get any better? There is no rhyme or reason to his genius.
In true John Green style, this book was phenomenal. If I was still teaching my Children's Literature course, this book would definitely be on the reading list. Turtles All the Way Down gives the reader an inside view into the OCD mind of the main character, Aza.
As usual, the character development in this novel is outstanding. Aza, the main character, is the focus but the supporting cast of characters including Daisy, Davis, and Aza's mum are equally wonderful. Written in first person, we are witnesses to Aza's ongoing struggles, her despair and truimph.
Green incorporates so much in this little book. The struggles of living with a mental illness. Teens coping with the loss of a parent. A mother's fears of losing her daughter. And a mystery that is solved in the end. And, to top it off, Green also weaves his extreme love of both art and science into this novel. For such a short book, it truly has everything and is wrapped up in a wonderful package.
Take this ride through a range of emotions that equals the power of The Fault in Our Stars. You won't be disappointed!
Buylink: https://www.amazon.ca/Turtles-All-Down-John-Green/dp/0525555366/
Share



John Green
" target="_blank">



---