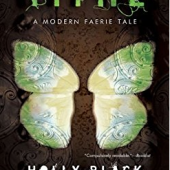 Sixteen-year-old Kaye is a modern nomad. Fierce and independent, she travels from city to city with her mother's rock band until an ominous attack forces the sixteen-year-old back to her childhood home. There, amid the industrial, blue-collar New Jersey backdrop, Kaye soon finds herself an unwilling pawn in an ancient power struggle between two rival faerie kingdoms — a struggle that could very well mean her death.
My Review
As promised after my review of The Cruel Prince, I went way back in time and found Holly Black's 2002 faerie novel, Tithe. I'm not sure if my review of this story is fair, because The Cruel Prince is such a more developed book (as it should be since it was published 15 years later and writers should grow into their craft).
While the story of Kaye, a changeling girl who is just discovering who she really is, was engaging and I finished the book in record speed, I was left wanting … more. More tension, more character development, more suspense.
For me, this was an exercise in discovering Holly Black's roots. I certainly will read more of her books. She is an absolute guru on everything faerie and her ability to transport the reader to the world of fae is masterful, even in her early work.
If you are curious as to the roots of Black's faerie world, or if you are like me and need more after reading The Cruel Prince, do check out Tithe. I will definitely be reading more of Black's work and seeing how she evolved as a writer into the Queen of all things Fae.
Buylink: https://www.amazon.ca/Tithe-Modern-Faeire-Holly-Black/dp/0689849249/
Share



Holly Black
" target="_blank">



---