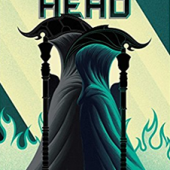 The Thunderhead cannot interfere in the affairs of the Scythedom. All it can do is observe—it does not like what it sees.
A year has passed since Rowan had gone off grid. Since then, he has become an urban legend, a vigilante snuffing out corrupt scythes in a trial by fire. His story is told in whispers across the continent.
As Scythe Anastasia, Citra gleans with compassion and openly challenges the ideals of the "new order." But when her life is threatened and her methods questioned, it becomes clear that not everyone is open to the change.
Will the Thunderhead intervene?
Or will it simply watch as this perfect world begins to unravel?
My Review
Wow! This was a great sequel to Scythe. The book opens with Rowan living out life as a vigilante and Citra continuing to define her unique spin on what her role as a junior scythe will mean to her. While that is exciting in and of itself, Shusterman raises the stakes until the world is on the brink of collapse.
Amid all this is the Thunderhead, the operating system that has saved the world for humankind. But the Thunderhead is having an existential crisis, realizing that humankind has betrayed its benefactor. In Book 2 of this series, the Thunderhead takes on a depth of characterization that makes it the protagonist of the tale.
The books appears to end where the series would … except for the last few pages where the reader realizes that Shusterman has simply created more layers and the story will likely continue. And I, for one, hope it does!
Buylink: https://www.amazon.ca/Thunderhead-Neal-Shusterman/dp/1442472456/
Share



Neil Shusterman
" target="_blank">



---