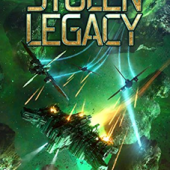 Even though Captain Jelena Marchenko has Starseer talents, such as telepathy and telekinesis, she has grown up feeling ostracized by the Starseer community. She longs for an opportunity to prove that she deserves a place among them.
When an old friend of the family shows up, seeking transportation to the site of an ancient Starseer relic, Jelena believes this may be her chance to prove herself. If she helps Abelardus recover an artifact that's important to the Starseer community, perhaps she'll finally be invited to join.
But once they are on their way to the site, she starts to question what Abelardus plans to do with the artifact—and if he even has the right to dig it up. Further, she wonders why it's been left alone for centuries. Is there a reason nobody tried to recover it before? And is it worth risking the lives of herself and her crew to win the good regard of strangers?
My Review
I told you guys I was obsessed. Thankfully this is as far as Buroker has written in this series (thankfully because there are OTHER books on my TBR list that I've been neglecting while I rocketed off with Jelena and her crew).
Usually I tire of a series after the first book or two but Book 3 was just as good as the first two books. Note: this is a series not a trilogy so I expect we will get more adventures from Jelena, Thor, Erick and everyone else on her ship.
In this adventure, the crew finds themselves shipping Starseers on an archaeological expedition to a far off asteroid. The two Starseers and science officer (Jelena's sort of ex-boyfriend) are not very open about their motives behind this trip and it soon becomes apparent that at least one of them has nefarious intentions.
What follows next is a fun, suspense filled tale of pirates, evil and good Starseers, a lost alien civilization, and so much more. In addition to all the adventure, Thor's struggles with his need to fulfill his father's wishes and do the right thing continue as does Jelena's growing feelings for him (despite Joe, the scientist ex-boyfriend who is still in love with her, being on board). A lot happens in this little book and the pace is so fast, the reader is pulled right into Jelena's world!
As a footnote: I've been reading this series on the Audible audiobook versions and the narrator (Emily Woo Zeller) is absolutely outstanding. If you like audiobooks, this is also one of the better performances I've found for a book series.
One of the reasons I love this series is that Lindsay Buroker is a masterful artist at painting an entirely new futuristic universe. I'm also a trekkie and grew up on the original Star Wars so … if that sounds like you, check this series out. To be honest, it's the first book series that's engaged me as much as TNG and Luke, Hans, and Leia!
Buylink: https://www.amazon.ca/Stolen-Legacy-Full-Stars-Book-ebook/dp/B071P5PRRH/
Share



Lindsay Buroker
" target="_blank">



---