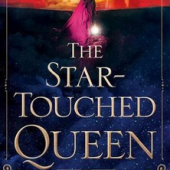 Maya is cursed. With a horoscope that promises a marriage of Death and Destruction, she has earned only the scorn and fear of her father's kingdom. Content to follow more scholarly pursuits, her whole world is torn apart when her father, the Raja, arranges a wedding of political convenience to quell outside rebellions. Soon Maya becomes the queen of Akaran and wife of Amar. Neither roles are what she expected: As Akaran's queen, she finds her voice and power. As Amar's wife, she finds something else entirely: Compassion. Protection. Desire…
But Akaran has its own secrets — thousands of locked doors, gardens of glass, and a tree that bears memories instead of fruit. Soon, Maya suspects her life is in danger. Yet who, besides her husband, can she trust? With the fate of the human and Otherworldly realms hanging in the balance, Maya must unravel an ancient mystery that spans reincarnated lives to save those she loves the most. . .including herself.
My Review
The timeliness of reading this book right when worldwide women's marches are happening is interesting. A book about a young girl who doesn't realize the power she has to change worlds. I absolutely adored this book.
Maya, the main character, is impossible not to love. When we are introduced to her, she is a storyteller who keeps her younger sister enthralled with her tales. But she is also restless, wanting nothing more than to leave her father's harem and start a life of her own. She knows that she is better prepared to rule a country than her older half-brother, whose self interest is behind all his motivation.
Alas, being a girl relegates her to a future as a wife. And probably only one wife in a series of wives for the husband she chooses (oh, yes, she gets to choose because there a number of men who want to win her hand in marriage. Not because she is so beautiful they can't live without her but because they want an alliance with her father, the Raja). When she hears that a marriage is being arranged for her (by eavesdropping on her father's private meetings when she was supposed to be working with her tutor), she thinks about rebelling … but what can she do? Her options are limited as a girl.
Then her father comes to her with a solution. She can sacrifice her own life for her kingdom. He provides her with the poison to do so and instructs her to drink it when all her suitors have come but before she makes her final decision.
Once Maya meets her potential husbands, she realizes that drinking the poison is probably her best option. She makes the decision to do as her father has asked of her and sacrifice her life for her country but just as she is about to follow through, fate steps in. Suddenly a suitor appears named Amar and she finds herself agreeing to be his wife and marrying on the spot.
That's when the real adventure begins. He takes her to his strange kingdom, Akaran, where he tells her she is now queen. But there are too many questions that are not answered and Amar is bound to not tell her anything until after the first new moon.
Maya, impatient with waiting for the truth, takes matters into her own hands and in doing so unintentionally casts herself out of Akaran. As she struggles to find a way back to Amar, who has forgotten her, and defeat the evil of her former friend, who longs to take her place in Akaran, Maya learns that she has far more power than she thought. She has the power to save her sister, her former kingdom, Amar and Akaran. More importantly, she has the power to save herself.
Highly recommend this book. Buylink: https://www.amazon.ca/Star-Touched-Queen-Roshani-Chokshi/dp/1250085470
Share



Roshani Chokshi
" target="_blank">



---