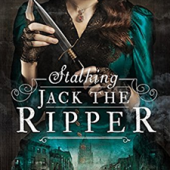 Seventeen-year-old Audrey Rose Wadsworth was born a lord's daughter, with a life of wealth and privilege stretched out before her. But between the social teas and silk dress fittings, she leads a forbidden secret life.
Against her stern father's wishes and society's expectations, Audrey often slips away to her uncle's laboratory to study the gruesome practice of forensic medicine. When her work on a string of savagely killed corpses drags Audrey into the investigation of a serial murderer, her search for answers brings her close to her own sheltered world.
My Review
I have to admit that I started this book with some apprehension and by the end of the second chapter, I expected a mediocre showing but thought I'd carry on a bit more to see how it played out. Before long I found myself binging on the book and not putting it down until it was finished.
I am not much of a murder mystery lover but I do like a good episode of Forensic Files. I also have been obsessed with Victorian England for most of my life. Plus the intriguing case of Jack the Ripper is a sure way to pull me into a storyline.
So why the trepidation for the first few chapters? To be honest, I found the start a bit slow and cliched. That changed for me fairly soon into the story and this would have been a 5-star rating if Kerri Maniscalco had edited the front of the book a wee bit more to eliminate the romance story elements that had me cringing just slightly.
Soon enough that is overridden entirely by the plot. Who is Jack the Ripper? Could he be related to Audrey Rose? Could it be her father even? I soon embarked on the adventure of guessing "who dunnit" and was immensely please with the ending (which confirmed my suspicions). In addition, Audrey Rose is a lovely, fiesty, intelligent heroine and the side characters really fill out the story.
I'll be looking for more from Kerri Maniscalco in the future!
Buylink:https://www.amazon.ca/Stalking-Jack-Ripper-Kerri-Maniscalco/dp/031627349X/
Share



Kerri Maniscalco
" target="_blank">



---