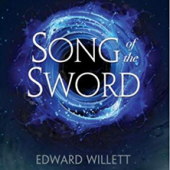 In the first book of this series, Ariana meets her ancestor, the famous Lady of the Lake, and is sent on an important and dangerous quest – to reunite the pieces of the fabled sword Excalibur.
Ariana's life is already pretty difficult when she starts to hear the singing – her mother suddenly disappeared, she's trying to get used to living with her aunt after bouncing around a series of foster homes, and she's taking a lot of grief from the clique of "in" girls at school. But she's also dealing with these sudden premonitions about the future, things seem to get weird whenever she touches water, and now someone, somewhere is singing to her. Soon, she's met the famed Lady of the Lake – who turns out to be an ancestor – UNDER Wascana Lake, has acquired a nerdy sidekick, and is sent on a dangerous mission that pits her against otherworldly forces. Can she figure out what it all means, much less survive the challenge?
My Review
When the author contacted me to see if I would review the audio version of this book, I have to admit I was a bit skeptical. But I was pleasantly surprised with this young adult spin on the King Arthur legend.
As the blurb notes, the protagonist in this book is Ariana, a girl who has had a rough start to her life. Her father is not in the picture, her mother mysterious disappeared years earlier, she was then placed in foster care because her aunt had been going through cancer treatment. Now her aunt is well and able to care for her, she finds herself in a new school that is ruled by a group of mean girls who have singled her out to be bullied. When she fights back she finds herself suspended. Then things take an interesting twist.
Ariana befriends Wally, and unexpected nerdy sidekick, who looks younger than he is. Wally is still waiting impatiently for his adolescent growth spurt to kick in. As they both try to evade Wally's older sister (ringleader of the mean girls), they find themselves in the woods where they encounter a supernatural presence who identifies as The Lady of the Lake and who claims Ariana is her heir. She then tasks them both with a quest to find the broken pieces of Excalibur before the evil Merlin can do so.
This was the type of book my kids would have loved when they were younger. The characters are believable and real, the story is full of adventure and danger, and the re-imagining of the Arthur legend is entertaining. In addition, Willett has set his series in Canada, which was a nice bonus to the book. Song of the Sword has a Harry Potter-like feel to it. Willett has a real gift for capturing the young adult voice.
I really enjoyed this novel. I'm looking forward to seeing where Ariana and Wally go on their next adventure in Book 2.
Buylink: https://www.amazon.ca/Song-Sword-Edward-Willett/dp/1550505807/
Share



Edward Willett
" target="_blank">



---