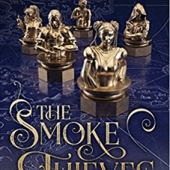 In a land tinged with magic and a bustling trade in an illicit supernatural substance, destiny will intertwine the fates of five players:
A visionary princess determined to forge her own path.
An idealistic solider whose heart is at odds with his duty.
A streetwise hunter tracking the most dangerous prey.
A charming thief with a powerful hidden identity.
A loyal servant on a quest to avenge his kingdom.
All are driven by ambition, honor, and desperation on the cusp of war. But who will be left standing when the smoke clears?
My Review
The Smoke Thieves is an epic fantasy novel that is told from multiple points of view. Set in a land with multiple kingdoms, the story line follows five main characters' stories, all of which will converge on a battlefield at the end of the novel. Filled with royalty, thieves, mystery, and magic, The Smoke Thieves, seems to have it all but can it stand up to the hype?
If you are not a fan of epic fantasy novels, you shouldn't attempt this book. For me, who has read LOTR, Robert Jordan and Brooks' Shannara series since adolescence, epic fantasies are a favourite genre (hence my own Marked Ones series). Green definitely is attempting a Game of Thrones feel in this young adult novel. The story opens with Tash, a tiny 13-year old demon hunter, who has an attitude larger than her stature and a fetish for boots. Her feisty personality pulls the reader right into the story.
Princess Catherine, soon to be married to a prince in a far off land, is another character that drew me in. Green does a good job of developing strong female characters. However, the princess's conflicted love interests started to feel a little cliched to me as the novel progressed. I liked Catherine best when she was pursuing her role as a future queen rather than as a future wife or lover.
And another positive was the budding relationship between Eydon and March, one a bastard who doesn't know who his father is and the other the son of a destroyed nation who has acted as a servant to the prince who destroyed his life. Their growing love seemed to an underdeveloped plotline in the story that, perhaps, Green will further develop in Book 2.
With all these positives, I did find some parts of the novel awkward and difficult to follow. First, having five different points of view, which is fairly typical in high fantasy, was frustrating for me at times. When done right, the reader follows one character's POV to a cliffhanger and then is thrust into another story line with the original one left on pause. This is an effective tool for moving the story forward and the reader understands (if only subconsciously) that these different threads will come together at the climax of the book or series. In The Smoke Thieves, however, the sudden shifts in POV left me irritated.
The second weakness was the incorporation of graphic violent scenes. This is where the Game of Thrones mimicking became most apparent. While Green is attempting to illustrate how cruel Catherine's father is, the descriptions of his victims and their untimely ends really seemed forced at times.
Overall, I enjoyed The Smoke Thieves and am looking forward to seeing where the story goes in Book 2. The climatic ending of Book 1, leads me to believe that Princess Catherine and Tash will both further develop as strong main characters as the series continues and I'm eager to read the next installment.
Buylink: https://www.amazon.ca/Smoke-Thieves-Sally-Green/dp/0425290212/
Share



Sally Green
" target="_blank">



---