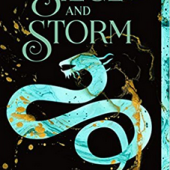 Hunted across the True Sea, haunted by the lives she took on the Fold, Alina must try to make a life with Mal in an unfamiliar land, all while keeping her identity as the Sun Summoner a secret. But she can't outrun her past or her destiny for long.
The Darkling has emerged from the Shadow Fold with a terrifying new power and a dangerous plan that will test the very boundaries of the natural world. With the help of a notorious privateer, Alina returns to the country she abandoned, determined to fight the forces gathering against Ravka. But as her power grows, Alina slips deeper into the Darkling's game of forbidden magic, and farther away from Mal. Somehow, she will have to choose between her country, her power, and the love she always thought would guide her–or risk losing everything to the oncoming storm.
My Review
I enjoyed Book 2 of The Grisha Trilogy even more than Book 1. Often the second book in a series feels like a holding place … the background book that the reader needs to get through before moving on to Book 3, which is the finale.
But Siege and Storm is a stand alone story on its own. Bardugo does an amazing job of weaving a tale about Alina, the Darkling, and Mal that builds on the first book but also could easily sweep any reader away without having Book 1 as a prerequisite reading.
Once again I was immersed in Alina's story as she struggles to come to terms with her growing Grisha power, her shifting relationship with Mal, and the continued haunting of the Darkling. With a cast of new characters and some old ones, ranging from pirates to princes, I could not put this book down..
I'm moving right on to Book 3. If you are looking for a magical adventure laced in darkness, Siege and Storm will not disappoint.
Buylink: https://www.amazon.ca/Siege-Storm-Leigh-Bardugo/dp/125004443X/
Share



Leigh Bardugo
" target="_blank">



---