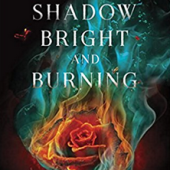 I am Henrietta Howel.
The first female sorcerer in hundreds of years.
The prophesied one.
Or am I?
Henrietta Howel can burst into flames.
Forced to reveal her power to save a friend, she's shocked when instead of being executed, she's invited to train as one of Her Majesty's royal sorcerers.
Thrust into the glamour of Victorian London, Henrietta is declared the chosen one, the girl who will defeat the Ancients, bloodthirsty demons terrorizing humanity. She also meets her fellow sorcerer trainees, handsome young men eager to test her power and her heart. One will challenge her. One will fight for her. One will betray her.
But Henrietta Howel is not the chosen one.
As she plays a dangerous game of deception, she discovers that the sorcerers have their own secrets to protect. With battle looming, what does it mean to not be the one? And how much will she risk to save the city—and the one she loves?
My Review
Henrietta is a strong, female protagonist. She has all the traits I love in a good fantasy hero: she's humble, a bit confused, just learning her powers, and she's thrown into a situation where she must determine who her friends and foes while at the same time struggling to control her growing powers.
This book was good. But it wasn't so good I couldn't put it down – the first third of the book was slow for me. It has a solid story, engaging characters but is missing the spark that really engages me as a reader. That is until about 2/3rds of the way in. Then everything changed. The storyline picked up and the finale did not disappoint. The end of the book really intrigued me and I will be reading the sequel soon. If you pick up this one, stick with it and you won't be disappointed!
Buylink: https://www.amazon.ca/Shadow-Bright-Burning-Kingdom-Fire/product-reviews/0553535900/
Share



Jessical Cluess
" target="_blank">



---