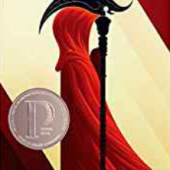 A world with no hunger, no disease, no war, no misery: humanity has conquered all those things, and has even conquered death. Now Scythes are the only ones who can end life—and they are commanded to do so, in order to keep the size of the population under control.
Citra and Rowan are chosen to apprentice to a scythe—a role that neither wants. These teens must master the "art" of taking life, knowing that the consequence of failure could mean losing their own.
My Review
A new dystopian series that has everything I love. Star-crossed (almost) lovers pitted against one another in a battle to the death. Throw in some truly evil characters, a few noble mentors, a handful of mystery, and a very cool computer system (The Thunderhead) and you have the recipe for a great series. This is book 1 and book 2 is already on my to be read list.
Buylink: https://www.amazon.ca/Scythe-Neal-Shusterman/dp/1442472421/
Share



Neil Shusterman
" target="_blank">



---