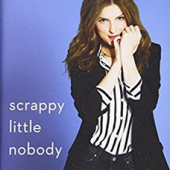 Even before she made a name for herself on the silver screen starring in films like Pitch Perfect, Up in the Air, Twilight, and Into the Woods, Anna Kendrick was unusually small, weird, and "10 percent defiant."
At the ripe age of thirteen, she had already resolved to "keep the crazy inside my head where it belonged. Forever. But here's the thing about crazy: It. Wants. Out." In Scrappy Little Nobody, she invites readers inside her brain, sharing extraordinary and charmingly ordinary stories with candor and winningly wry observations.
With her razor-sharp wit, Anna recounts the absurdities she's experienced on her way to and from the heart of pop culture as only she can—from her unusual path to the performing arts (Vanilla Ice and baggy neon pants may have played a role) to her double life as a middle-school student who also starred on Broadway to her initial "dating experiments" (including only liking boys who didn't like her back) to reviewing a binder full of butt doubles to her struggle to live like an adult woman instead of a perpetual "man-child."
My Review
I loved this book. And to be fair, I took forever to finish it, which is not my normal modus operandi when I love a book. Those of you who read my reviews know that I usually devour books I love. But this one I savoured … like a fine wine.
Okay, straight up, for the last year-and-a-half this has been my bathroom book. Not just for sitting on the toilet but also bubble baths and hiding in there when I'm entertaining people I need a break from. I pre-ordered this book and started reading it as soon as it came but immediately recognized it as a collection of wonderful vignettes that I wanted to enjoy slowly. In the toilet. (And I'm SURE I had many guests who saw the book sitting on the counter and helped themselves to some Anna humour).
Anna is hilarious and REAL. She's one of those famous people who you want to meet not to ask for an autograph but to hang out with just to ask her about how weird it is to be famous.
I first saw her in Scott Pilgrim vs. the World and for years afterward thought she was sooo cool and I was really proud she was a Canadian actress (yeah, she's not Canadian … but she's cool enough to be Canadian). And I didn't first see her in Scott Pilgrim … I kinda forgot she was in Twilight (sorry, Anna).  Beyond learning that she is indeed an American actress, I loved hearing about feisty young Anna going for her dreams.
And she includes lots of fun extras in this book. I particularly loved her special afterward for book clubs. And her About the Author page (I also am shorter in real life).
I could go on and on about how much I adored Anna's voice in this book but I'll start to be repetitive. Just go and get it (you know you need a bathroom book). Now I have an empty spot on the vanity in the bathroom …
Buylink: https://www.amazon.ca/Scrappy-Little-Nobody-Anna-Kendrick/dp/1501117203/
Share



Anna Kendrick
" target="_blank">



---