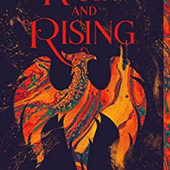 Soldier. Summoner. Saint.The nation's fate rests with a broken Sun Summoner, a disgraced tracker, and the shattered remnants of a once-great magical army.
The Darkling rules from his shadow throne while a weakened Alina Starkov recovers from their battle under the dubious protection of the zealots who worship her as a Saint. Now her hopes lie with the magic of a long-vanished ancient creature and the chance that an outlaw prince still survives.
As her allies and enemies race toward war, only Alina stands between her country and a rising tide of darkness that could destroy the world. To win this fight, she must seize a legend's power―but claiming the firebird may be her ruin.
My Review
This is the finale of the GrishaVerse trilogy and a fitting finale it is. As with both the other books in this series, Ruin and Rising is filled with action, adventure, heartbreak, loss, healing, and love. Bardugo does a fantastic job revealing the mysteries of the Amplifiers and the origins of the Darkling and her own strange powers.
I loved every bit of the trilogy, particularly the fact that the book ends with real closure. If you liked the ending of Mockingjay in the Hunger Games trilogy, you will like the ending of GrishaVerse.
My only critique, and it is a mild one, was that I felt the ending of the book might have been just a touch lengthy. While I appreciated that Bardugo tied up loose ends and beautifully framed the opening and closing of this book with fairytale-like narrative, I felt that after the great battle and all that is resolved through it, I didn't need to hear more about Alina's story.
This was a wonderfully entertaining, fast-paced series that I highly recommend to all magical fantasy lovers.
Buylink: https://www.amazon.ca/Ruin-Rising-Leigh-Bardugo/dp/1250063167/
Share



Leigh Bardugo
" target="_blank">



---