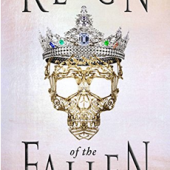 Without the dead, she'd be no one.
Odessa is one of Karthia's master necromancers, catering to the kingdom's ruling Dead. Whenever a noble dies, it's Odessa's job to raise them by retrieving their soul from a dreamy and dangerous shadow world called the Deadlands. But there is a cost to being raised: the Dead must remain shrouded. If even a hint of flesh is exposed, a grotesque transformation begins, turning the Dead into terrifying, bloodthirsty Shades.
A dramatic uptick in Shade attacks raises suspicions and fears around the kingdom. Soon, a crushing loss of one of her closest companions leaves Odessa shattered, and reveals a disturbing conspiracy in Karthia: Someone is intentionally creating Shades by tearing shrouds from the Dead–and training them to attack. Odessa is forced to contemplate a terrifying question: What if her magic is the weapon that brings the kingdom to its knees?
Fighting alongside her fellow mages–and a powerful girl as enthralling as she is infuriating–Odessa must untangle the gruesome plot to destroy Karthia before the Shades take everything she loves.
My Review
I hate to write negative reviews (and I rarely do) but this book just did not do it for me. I could not engage with the story line, I didn't like the protagonist, Odessa, and I just didn't get the point.
I did try to stick with this book as I have this weird inner demon that won't let me not finish a book I've purchased but I finally gave up with only a few chapters left. I just didn't care what happened to Odessa or anyone else in the book.
Since this was praised to be in the same league as Three Dark Crowns and Red Queen, both of which I loved, I was especially disappointed. But maybe it just wasn't the book for me.
Buylink: https://www.amazon.ca/Reign-Fallen-Sarah-Glenn-Marsh/dp/0448494396/
---