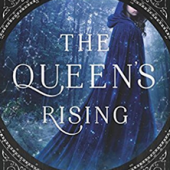 Brienna desires only two things: to master her passion and to be chosen by a patron. Growing up in Valenia at the renowned Magnalia House should have prepared her. While some are born with a talent for one of the five passions—art, music, dramatics, wit, and knowledge—Brienna struggled to find hers until she chose knowledge. However, Brienna's greatest fear comes true—she is left without a patron.
Months later, her life takes an unexpected turn when a disgraced lord offers her patronage. Suspicious of his intent, she reluctantly accepts. But there is much more to his story, for there is a dangerous plot to overthrow the king of Maevana—the rival kingdom of Valenia—and restore the rightful queen, and her magic, to the throne. And others are involved—some closer to Brienna than she realizes.
And now, with war brewing, Brienna must choose which side she will remain loyal to: passion or blood.
My Review
An epic adventure featuring a strong female protagonist – I really enjoyed this read. Brienna has never known her father. Her mother died when she was young and her protective grandfather hid her away with in a passion house to keep her safe from the father she never knew.
As Brienna cycles through the different passions, failing at all, she finally settles on knowledge. But as her classmates find patrons and leave her, Brienna is left at the passion house until … her mistress discovers that Brienna is the key to the return of  the ruling Queens to Maevana, a land that has suffered through King's rule for generations. While Brienna does not possess magical royal blood, her role in the return of female rule to her father's land is integral.
This book has everything: a strong protagonist that you can't help loving, a wide array of side characters, adventure, mystery, romance, and danger. And the bonus is that the story ends beautifully with real closure. Highly recommend!
Buylink: https://www.amazon.ca/Queens-Rising-Rebecca-Ross/dp/0062471341/
Share



Rebecca Ross
" target="_blank">



---