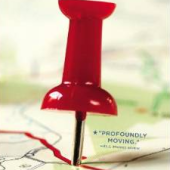 When Margo Roth Spiegelman beckons Quentin Jacobsen in the middle of the night—dressed like a ninja and plotting an ingenious campaign of revenge—he follows her. Margo's always planned extravagantly, and, until now, she's always planned solo. After a lifetime of loving Margo from afar, things are finally looking up for Q . . . until day breaks and she has vanished. Always an enigma, Margo has now become a mystery. But there are clues. And they're for Q.
My Review
After my daughter urged me to read The Fault in Our Stars (which reduced me to a sobbing mess of tears in a mere three hours), I vowed never to read another John Green novel because clearly he was a cruel and deranged man. But then I have this rule where I won't let myself see a movie unless I've first read the novel and Paper Towns is going to be a movie that I will go see … so I was forced to read the book.
And I have to say this is a brilliant novel. I loved it. And that's saying a lot because I was determined NOT to like it.
The characters are such that I immediately either loved them (Q) or hated them (Margo). This book is just so REAL and honest. Which is Green's trademark.
The pacing of the novel is perfect, the ongoing mystery of Margo and Q's undying devotion to her is hard to resist. I also loved that this story is told entirely from Q's point of view. It was really refreshing to read a novel written from the male protagonist's viewpoint.
I think Green really captures the angst and excitement that encapsulate the final few months of high school. This is a universally appealing book. If you haven't yet read it, you should!
Buylink: http://www.amazon.ca/gp/product/014241493X?ie=UTF8&isInIframe=1&n=916520&redirect=true&ref_=dp_proddesc_0&s=books&showDetailProductDesc=1#iframe-wrapper
Share



John Green
" target="_blank">



---