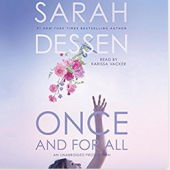 Louna's summer job is to help brides plan their perfect days, even though she stopped believing in happily ever after when her first love ended tragically. But charming girl-magnet Ambrose isn't about to be discouraged now that he's met the one he really wants. Maybe Louna's second chance is standing right in front of her.
My Review
This was a wonderful, coming-of-age story. I'm a big Sarah Dessen fan and this book did not disappoint. I loved both Louna and Ambrose and was rooting for a happy ending all the way through.
This is a feel good read. Not a heavy-issue, dramatic read but a good light, fun romance. Take it to the beach or give it to a tween or teen who is on spring break. It was everything I expected and I loved it.
Share



Sarah Dessen
" target="_blank">



---