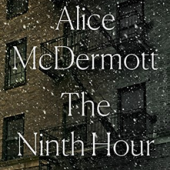 On a dim winter afternoon, a young Irish immigrant opens a gas tap in his Brooklyn tenement. He is determined to prove—to the subway bosses who have recently fired him, to his badgering, pregnant wife—that "the hours of his life . . . belonged to himself alone." In the aftermath of the fire that follows, Sister St. Saviour, an aging nun, a Little Nursing Sister of the Sick Poor, appears, unbidden, to direct the way forward for his widow and his unborn child.
In Catholic Brooklyn in the early part of the twentieth century, decorum, superstition, and shame collude to erase the man's brief existence, and yet his suicide, though never spoken of, reverberates through many lives—testing the limits and the demands of love and sacrifice, of forgiveness and forgetfulness, even through multiple generations.
My Review
Another shift from the usual books I review, this is a lovely story of lives intertwined and the history of a family across generations. I thoroughly enjoyed this book. Alice McDermott weaves a tale that captured me from the first page.
Told from the view point of aged children of long dead parents, the reader is taken back several generations in time to hear the lives and deaths grandparents and great grandparents along with the ever present nuns that nurse and carry them through their lives. A time long past now, but beautifully painted for modern day readers.
I was particularly moved by the role the nuns played in the characters lives. Real women who literally and figuratively nurse and care for their flock, they reveal a depth of understanding and empathy that the other characters can only try to strive for. These women understand far more about sin and love than the reader may first believe.
Touching on the themes of redemption, loss, and forgiveness overshadowed with the unmentionable "sin" of mental illness, this is an amazing book.
https://www.amazon.ca/Ninth-Hour-Novel-Alice-McDermott-ebook/dp/B06W9HYRX1/
Share



Alice McDermott
" target="_blank">



---