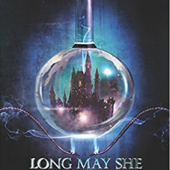 Freya was never meant to be queen. Twenty-third in line to the throne, she never dreamed of a life in the palace, and would much rather research in her laboratory than participate in the intrigues of the court. However, when an extravagant banquet turns deadly and the king and those closest to him are poisoned, Freya suddenly finds herself on the throne.
She may have escaped the massacre, but she is far from safe. The nobles don't respect her, her councillors want to control her, and with the mystery of who killed the king still unsolved, she knows that a single mistake could cost her the kingdom—and her life.
Freya is determined to survive, and that means uncovering the murderers herself. Until then, she can't trust anyone. Not her advisers. Not the king's dashing and enigmatic illegitimate son. Not even her own father, who always wanted the best for her but also wanted more power for himself.
As Freya's enemies close in and her loyalties are tested, she must decide if she is ready to rule and, if so, how far she is willing to go to keep the crown.
My Review
Do you want to read another royalty fantasy novel? If it's Long May She Reign then you do!
A gawky young girl who is distantly connected to the throne and who loves her laboratory and experiments suddenly finds herself as the next in line for the crown. With an overly ambitious father, a handsome and antagonistic illegitimate prince, and another girl vying to be queen, this is a fast-paced murder mystery that had me hooked from the very start.
The strengths of this book were the ongoing mystery of whodunit along with the incredibly strong character development. Freya is not your typical crown princess in any sense but she is incredibly real and endearing to the reader. Written in the style of classic fairy tales with a magical twist, this is a book that won't disappoint.
Buylink: https://www.amazon.ca/Long-May-Reign-Rhiannon-Thomas/dp/0062418688/
Share



Rhiannon Thomas
" target="_blank">



---