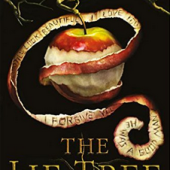 Faith Sunderly leads a double life. To most people, she is reliable, dull, trustworthy—a proper young lady who knows her place as inferior to men. But inside, Faith is full of questions and curiosity, and she cannot resist mysteries: an unattended envelope, an unlocked door. She knows secrets no one suspects her of knowing. She knows that her family moved to the close-knit island of Vane because her famous scientist father was fleeing a reputation-destroying scandal. And she knows, when her father is discovered dead shortly thereafter, that he was murdered.
In pursuit of justice and revenge, Faith hunts through her father's possessions and discovers a strange tree. The tree bears fruit only when she whispers a lie to it. The fruit of the tree, when eaten, delivers a hidden truth. The tree might hold the key to her father's murder—or it may lure the murderer directly to Faith herself.
My Review
This book wasn't my favourite. I had trouble engaging with the characters and at times I was bored with the storyline.
The premise is intriguing. A young, intelligent girl takes on investigating her father's murder when everyone else thinks he has killed himself due a scandal related to falsification of his scientific discoveries. And the book does toy with the paradox of science versus nature. And while I wanted to love this book I found myself … drifting at times. This was the kind of book where I would send up reading a few pages and then wonder what I had read because my mind had drifted.
I tend to either love or hate a book. This one, while it had an interesting setting and premise, just didn't engage me. If you enjoy historical literature and girl power books, you might feel otherwise.
Share



Frances Hardinge
" target="_blank">



---