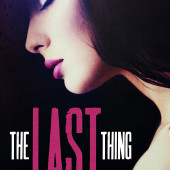 Summary:
Plagued by past mistakes in both love and life, Quinn Bardot is in a bad place. With nowhere else to turn, she escapes to LA clinging to the promise of a fresh start.
Chase Crowley is known for being selfish and unbelievably persistent. All he's ever wanted is to become a successful actor. But now that he is about to have it all, he finds that something is still missing. Money and fame isn't what he expected. 

After a fervent encounter, the two of them are thrown into a situation that neither is prepared for. Can Quinn extinguish her fears and let Chase in? Can Chase learn to put someone else's needs before his own? 

The Last Thing is a novel all about love, Hollywood, and accepting what life throws at you even if it is the last thing you want.

(This is a New Adult Romance novel & contains language & adult situations. Not recommended for readers younger than 17) 

***The Last Thing is a stand alone book with NO cliff hanger ending. It is Book One in the series.***
About the Author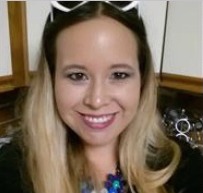 Briana Gaitan grew up in the South but calls herself a geek at heart. She is a blogger, author, and fangirl who loves Star Wars, Star Trek, and Jewelry (bet you never thought you'd hear those three things in a sentence together). For fun, she loves watching any show on the SyFy channel, relaxing with her family, reading, and listening to indie music (sometimes all at the same time). Briana loves to write stories where there are no limits to the imagination.
You can read more about Briana on her website: Books with Bree
My Review
Okay, so this is a bit different than my usual reviews in that The Last Thing falls into the category of contemporary romance for me as a reader.
I've been a closet romance reader for more than 30 years (my beloved Grandma B got me hooked). For a while I read copious numbers of romances, I'm down to only reading them once or twice a year now. I have read thousands in my life time and I either love them or hate them (if I hate them, they don't get finished). If I love them, they are usually finished in one or two nights.
The Last Thing fell into the "loved it" category. It has everything I expect in a well written romance: wonderful characters, a twisted back story and lots of romantic tension. It definitely keeps you turning the pages.
The main character Quinn Bardot is a well developed character. She is likeable and has a complex background that keeps the reader cheering her on for the entire story. Chase Crowley, our handsome hero, is a bit less developed as a character but that works as we get to see him grow tremendously throughout the novel.
Briana Gaitan doesn't tie the loose ends up until the very end of the book (which is essential in a well developed romance). She does an excellent job of unraveling Quinn's back story and keeping the reader invested in the main characters until the last page.
Another thing I loved about this book was the secondary characters. They are involved and developed enough to make me care what happens to them as a reader. I'm thrilled to see that Brianna is writing Ginger's story as I wanted to know what happened to Quinn's feisty cousin.
And it's really that simple for me. If you like romances, buy this book (it's available at Amazon). If you aren't a romance fan, then you won't like it.
It does have "mature subject matter" but in a tasteful and well written way (there isn't any sex just for the heck of it in this book). Overall, a book I would recommend to my friends who are romance fans.
Excerpt
"Nice shoes," a deep voice said from beside me. I almost spit my drink out in surprise. Only two inches away from my face stood a man with chocolate colored eyes and short brown hair that stuck up all over his head as if he had just rolled out of bed. I detected some sort of Hispanic descent in his good looks. He wore a pair of khakis and a tight long-sleeved black t-shirt. He actually seemed normal compared to all the Barbie and Ken dolls around me, and it made me feel at ease. I took a step back so that our faces weren't so close. "Yeah, I reckon heels aren't really my thing," I replied and took another sip from my cup. He chuckled and folded his hands across his chest, one hand stroking his chin as if he were studying me.
"Whiskey…high tops…no French manicure…"
He picked up one of my hands and studied it. Shocked by the way my heart sped when he touched me, I pulled it out of his grasp. I could feel my face turning red, but I willed my breathing to slow down and hoped that he couldn't see me blush under all of the makeup. He was quite literally the most striking man I'd ever laid eyes on. The reaction from my body was pure agony. I wanted him, needed him. My loneliness was getting the best of me. No. You don't need him as a distraction. You need a job, a hobby. He is the last thing you need. You're having a whiskey reaction.
"Sorry, I didn't mean to upset you," he said. I forced myself to look away from his smirk, and finished off the drink in my hand. I turned around and asked the bartender to fill me up again. The drink had already started to affect me, make me loosen up, but I needed a little more to help me with the anxiety.
Say something. Don't just stand there!
"Don't worry about it," I mumbled and picked up my filled glass. I was surprised that he was still standing there; I allowed myself to sneak another peek from the corner of my eye. From the way he carried himself he was a bit older than me, maybe in his mid-twenties. The way he laughed and his body language told me that he was charismatic, a charmer. This guy was persistent!
"I'm Chase," he said, holding out his hand. I reluctantly took it, afraid that he could see how unnerved I was.
"Quinn, nice to meet you." He didn't seem to notice my hand trembling as he lifted it up to his lips to place a light kiss on it. He gave me a slight wink that made me go weak in the knees. I was glad that I had high tops on my feet to steady me. Toughen up, Quinn. You can talk to a guy. But only talk. I took another big gulp of my liquid courage.
"So Quinn, how do you know Gillian?" He reached out to pick a piece of lint off my shoulder. I narrowed my eyes in on him. Why was he touching me?
"Oh, I don't know her. I'm here with a friend." I forced myself to look into his eyes, to show him that I wasn't intimidated.
"Who?" he asked
"Ginger Teague," I told him. He continued with his inquisition, to which I gave short answers.
"You a party crasher?"
I raised an eyebrow and answered, "No, I was invited."
"An actress?"
"No."
"Model?"
I scoffed at his question; as if I had the looks to be a model. "Uh, no…" I shook my head in disbelief.
"Who are you then? I don't think I've seen you around before. I wouldn't forget your face."
I didn't know what to say. It had been so long since I'd had any male attention. He probably wouldn't give me the time of day if he found out who I was or how much baggage I carried.
"Interesting, huh?"
"What?" I asked
"This party. I bet you have never been so star struck."
Was this guy for real?
"I don't know who any of these people are."
"Well then, it's high time you found out." He leaned in close and motioned toward the three blonde girls Ginger had introduced me to earlier.
"Those three bimbos are twiddle dee, dumb, and twit."
I spit my drink back out into my cup, almost choking from laughter.
"Did you call her a twit?"
"Damn straight. Though I'm not sure if it is from her lack of common sense or her twitter addiction."
This was kind of fun. My eyes scanned the room for our next victim
"What about him?" I pointed toward an older balding man with a twenty-something on his arm.
"Ah, yes. That is Jordan one of our writers. The girl on his arm just screwed her way up to a leading character."
"Isn't that a bit… unethical?"
"Everyone in Hollywood is unethical, my dear."
That was my cue to leave. I didn't need guys like him.
"As much as I want to continue on with this flirty banter, I really must get going." I boldly stuck my drink in his empty hand and spun around on my heels.
For more teasers and tidbits, check out the Pinterest page
Share



Briana Gaitan
" target="_blank">



---