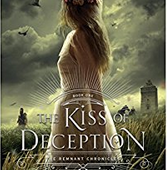 In a society steeped in tradition, Princess Lia's life follows a preordained course. As First Daughter, she is expected to have the revered gift of sight – but she doesn't – and she knows her parents are perpetrating a sham when they arrange her marriage to secure an alliance with a neighboring kingdom – to a prince she has never met.
On the morning of her wedding, Lia flees to a distant village. She settles into a new life, hopeful when two mysterious and handsome strangers arrive – and unaware that one is the jilted prince and the other an assassin sent to kill her. Deception abounds, and Lia finds herself on the brink of unlocking perilous secrets – even as she finds herself falling in love.
My Review
I loved this book! Lia is the perfect protagonist. She's strong, spunky, and independent. In addition, Pearson does a fantastic job keeping the reader guessing almost right to the end as to the identity of the prince. We have no idea who the assassin might be and who the prince is, even though we are reading both their thoughts. This is done absolutely masterfully. It is there to create tension and hook the reader, and, boy, was I hooked.
The novel ends on a cliffhanger but guess what – there is a sequel (thank goodness). Buy this one, you won't be disappointed!
Buylink: https://www.amazon.ca/Kiss-Deception-Mary-Pearson/dp/0805099239/
Share



Mary E. Pearson
" target="_blank">



---