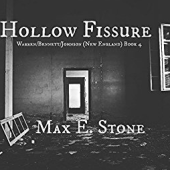 The well-meaning and meddlesome Mr. and Mrs. Aden want nothing more than to protect their only daughter, Hannah. After her childhood kidnapping in Somalia and a final showdown in Italy against the monster responsible, 19-year-old Hannah just wants back the life stolen from her.
She isn't naïve like her mother believes. Frequent flashes of past terrors assure her that the healing process is far from over. At the same time, she'd hardly use her dad's words and call herself "strong" or "brave". That description belongs to Melissa Bennett, the woman who almost died saving her.
Melissa doesn't feel much like the hero she's being hailed. While she is glad to have saved a life for once, the one she'd almost taken continues to haunt her dreams and stall her recovery. Despite her good deed and continuous help from friends and family abroad, and Kyle-the father of her little girl-she knows her days of freedom are numbered.
My Review
I was given an audiobook version of this title by the author for an honest review. Let me just start out by saying I typically read and reviewed young adult novels or fantasy novels. While I have reviewed romance and I have review suspense, they are generally linked to the young adult genre in some way (unless we are talking about a fantasy novel). So this was NOT what I was expecting.
My second comment is this is NOT a stand alone installment. The story clearly had much going on (in previous books?) but I haven't read any of those books. So it sounded like the prequels had much action, adventure, tragedy, and suspense but this book did not. The entire book just went through the emotional aftermath these characters are experiencing after a murder/rape/beating of (several?) characters.
As this is an incredibly short novella, I was confused as to why the author did not merge it with the previous books.
My final point is that I had the audiobook version. I don't often read romance or erotica and I've NEVER read it via audiobook. While the actors were very dramatic in their read performance of this book, I really didn't want to listen to the sighs, groans, and growls while driving to and from work.
I've seen that other reviewers loved this book. So if you are romantic suspense fan, you may wish to check out the series. I'm assuming starting from book 1 would be the best bet.
Buylink: https://www.amazon.ca/Hollow-Fissure-Bennett-Johnson-England-ebook/dp/B072DZDJ2F/
Share



Max E. Stone
" target="_blank">



---