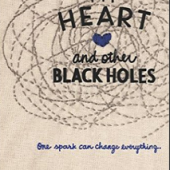 Sixteen-year-old physics nerd Aysel is obsessed with plotting her own death. With a mother who can barely look at her without wincing, classmates who whisper behind her back, and a father whose violent crime rocked her small town, Aysel is ready to turn her potential energy into nothingness.
There's only one problem: she's not sure she has the courage to do it alone. But once she discovers a website with a section called Suicide Partners, Aysel's convinced she's found her solution—Roman, a teenage boy who's haunted by a family tragedy, is looking for a partner.
Even though Aysel and Roman have nothing in common, they slowly start to fill in each other's broken lives. But as their suicide pact becomes more concrete, Aysel begins to question whether she really wants to go through with it. Ultimately, she must choose between wanting to die or trying to convince Roman to live so they can discover the potential of their energy together.
My Review
The premise of this book made me a bit uncomfortable at first. Two teens who meet based on a suicide pact. But instead of being a depressing book, this one is engaging and, in its own way, hopeful.
Warga does a great job of creating two likeable characters. I was drawn into Aysel's story almost immediately. A hopeful look at clinical depression and the realities those suffering from this illness may face from a young age, My Heart and Other Black Holes, tells the story of a girl who is learning to understand her sadness and to lean on others for help and a boy who is dealing with the deep grief that comes from losing a sibling to epilepsy.
A rare find, I highly recommend this book. Buylink: https://www.amazon.ca/My-Heart-Other-Black-Holes-ebook/dp/B00KFG15NU
Share



Jasmine Warga
" target="_blank">



---