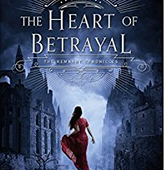 Held captive in the barbarian kingdom of Venda, Lia and Rafe have little chance of escape…and even less of being together.
Desperate to save her life, Lia's erstwhile assassin, Kaden, has told the Vendan Komisar that she has a magical gift, and the Komisar's interest in Lia is greater than either Kaden or Lia foresaw.
Meanwhile the foundations of Lia's deeply held beliefs are crumbling beneath her. Nothing is straightforward: There's Rafe, who lied to her but has sacrificed his freedom to protect her; Kaden, who meant to assassinate her but has now saved her life; and the Vendans, whom she always believed to be barbarians but whom she now realizes are people who have been terribly brutalized by the kingdoms of Dalbreck and Morrighan. Wrestling with her upbringing, her gift, and her very sense of self, Lia will have to make powerful choices that affect her country, her people…and her own destiny.
My Review
If you read my review of The Kiss of Deception, you'll know that I really was entranced by the first book in this series. Pearson kept the tension high as she didn't reveal Rafe and Kaden's true identities until almost the very end of the book. That really hooked me as a reader.
I have to admit as I turned to Book 2, I had my doubts whether she could keep the tension as high. Admittedly the tension was different in this book in the series. But, despite the mystery being revealed, this book really focused on Lia and her growth as a character as she began to mature into a true heroine.
In fact, all the main characters in this book really continued to develop. A great sequel to Book 1, I wonder how Pearson is going to bring this trilogy to a conclusion in Book 3.
Buylink: https://www.amazon.ca/Heart-Betrayal-Remnant-Chronicles-Book/dp/0805099247/
Share



Mary E. Pearson
" target="_blank">



---