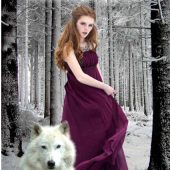 Seventeen-year-old Anastasia Lockhart has never led an easy life, but when she starts getting into serious trouble, she's sent to live with her grandparents in Cedar Falls. The small, picturesque town hasn't changed since she visited four years ago, with one exception – the presence of a handsome, mysterious boy named Frost. Despite warnings from her grandparents and friends to stay away from Frost, Anastasia can't deny their attraction, and the more time they spend together, the deeper in love they fall. Unfortunately, Frost has a secret that is beyond Anastasia's wildest imagination, and she soon finds herself in the midst of a supernatural legend that has haunted Cedar Falls for years.
Can Anastasia and Frost's love really overcome anything, or are their fates much darker?
My Review
Those of you who follow my reviews will know that I am not a fan of werewolf stories. Heck, even Shiver was a hard sell for me. So I picked up Frostbitten with some trepidation. But I was pleasantly surprised. In fact, I couldn't put it down. I finished this book in a day (that's a sure sign of a winner in my experience).
Anastasia Lockhart is a character that is appealing to the reader. And Frost, with a bit of an odd name, is a surprisingly endearing hero. In fact, one of Beck's great strengths as a writer is her ability to create characters that are believable and real.
The one weakness I found was that sometimes the romantic parts were a bit awkward. That fit well with the characters but at times were also a bit cliche.
Despite that slight weakness, the timing and pacing of the action parts swept me away as a reader and immersed me in the story from beginning to end. I would highly recommend this to readers, especially if you are a supernatural lover!
Still unsure? Check out the book trailer: https://www.youtube.com/watch?v=wF5tgp4RjFk
Share



Heather Beck
" target="_blank">



---