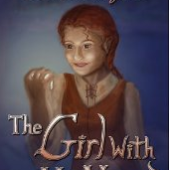 Banished from her village, a young shape shifter sets out on a journey to find her place in the world…
My Review
I received this book from the author in exchange for an honest review. When I first started the book, I was skeptical as to how I would like it. The tone was old fashioned, much like a fairytale, which was the point as I soon discovered! And the main character has no name, which I thought would be awkward. However I was pleasantly surprised.
I wasn't two pages into the book before I was enthralled by it. This is a wonderful tale, beautifully told. The main character, while nameless, is endearing. I was hooked on following her story. The reader gets to see her grow from a young girl of 12 into a young woman. She goes on a myriad of adventures through far off lands. But what I enjoyed most about this book is the focus on a strong female character. She is independent (at first due to circumstances beyond her control and later because she chooses to be) and strong.
Beautifully written, I strongly recommend reading this book.
Buylink: http://www.amazon.ca/Before-Fairytale-Girl-Seventh-Night-ebook/dp/B00D3RI4PK
Share



Iscah
" target="_blank">



---