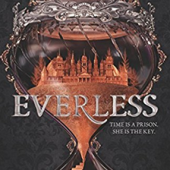 In the kingdom of Sempera, time is currency—extracted from blood, bound to iron, and consumed to add time to one's own lifespan. The rich aristocracy, like the Gerlings, tax the poor to the hilt, extending their own lives by centuries.
No one resents the Gerlings more than Jules Ember. A decade ago, she and her father were servants at Everless, the Gerlings' palatial estate, until a fateful accident forced them to flee in the dead of night. When Jules discovers that her father is dying, she knows that she must return to Everless to earn more time for him before she loses him forever.
But going back to Everless brings more danger—and temptation—than Jules could have ever imagined. Soon she's caught in a tangle of violent secrets and finds her heart torn between two people she thought she'd never see again. Her decisions have the power to change her fate—and the fate of time itself.
My Review
I enjoyed this book very much. Sara Holland creates a world filled with mystery and intrigue. Jules Ember is a sweet girl and the reader can't help falling in love with her. But … there is so much we don't know about her. In fact, her entire past is shrouded in mystery.
All we know is that for some reason, she had to flee her home of Everless due to a mysterious fire that almost killed her childhood friend. Since then she has lived on the run with her father, as he slowly wilts away before her eyes. She was young when they fled and everything is a bit of a haze. Except she knows that it is the fault of the eldest Gerling son that she had to leave. He all but banished her father and her.
But now she is returning to Everless, to uncover the mysteries of her past and discover what her future hold. I couldn't predict how this story would unravel and, for fear of giving away spoilers, I won't say any more. But if you love fairytales and fantasy, this is a book you should definitely pick up.
Buylink: https://www.amazon.ca/Everless-Sara-Holland/dp/0062653652/
Share



Sara Holland
" target="_blank">



---