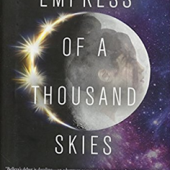 Empress
Rhee, also known as Crown Princess Rhiannon Ta'an, is the sole surviving heir to a powerful dynasty. She'll stop at nothing to avenge her family and claim her throne.
Fugitive
Aly has risen above his war refugee origins to find fame as the dashing star of a DroneVision show. But when he's falsely accused of killing Rhee, he's forced to prove his innocence to save his reputation – and his life.
Madman
With planets on the brink of war, Rhee and Aly must confront a ruthless evil that threatens the fate of the entire galaxy.
My Review
While this was a fast read, I was disappointed overall with the story. As many other reviewers have noted the blurb is misleading.
The story alternates between Rhiannon and Aly's point of view: a princess and a reality tv star. The premise was good and there was a lot of action but for some reason the story missed its mark for me. The only likeable character for me was Aly. And I had a problem with the story moving back and forth in time (a LOT of flashbacks).
So overall I was disappointed in this book. Will I read the sequel (if there is one)? … Maybe but it won't be first on my TBR list.
Buylink:https://www.amazon.ca/Empress-Thousand-Skies-Rhoda-Belleza/dp/1101999101/
Share



Rhoda Belleza
" target="_blank">



---