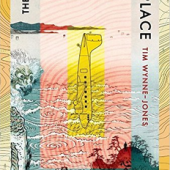 When Evan's father dies suddenly, Evan finds a hand-bound yellow book on his desk—a book his dad had been reading when he passed away. The book is the diary of a Japanese soldier stranded on a small Pacific island in WWII. Why was his father reading it? What is in this account that Evan's grandfather, whom Evan has never met before, fears so much that he will do anything to prevent its being seen? And what could this possibly mean for Evan?
My Review
This was a phenomenal book! Wynne-Jones does an incredible job of weaving the story of a long dead Japanese soldier into the life and imagination of a 17-year old Canadian boy who has just had his entire life rearranged when his father suddenly dies.
I do not like war books and I'm not a huge WWII history fan, but I could not put this book down. The pacing and tension throughout the book had me on the edge of my seat. And I wasn't just interested in what happened to Isamu but I became invested in Evan's own story as well. The books moves seamlessly back and forth from present day Ontario to 1944 and a Japanese island dubbed Kokoro-Jima  by the Japanese soldier who finds himself stranded there.
The characters in this book have a depth that one doesn't typically find in these stories. From the protagonist Evan to that long-ago soldier, Isamu Oshiro, to Evan's retired marine grandfather, Griff, each character had his own complex reality that made him come alive.
The book has everything a successful story has: adventure, mystery, heartbreak and resolution. I highly recommend this to anyone who enjoys a great read. I think it will especially resonate with tween boys, who are reluctant readers.
Buylink: https://www.amazon.ca/Emperor-Any-Place-Tim-Wynne-Jones/dp/0763669733
Share



Tim Wynne-Jones
" target="_blank">



---