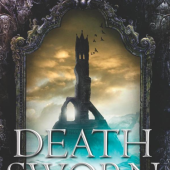 When a young sorceress is exiled to teach magic to a clan of assassins, she will find that secrets can be even deadlier than swords. Teen Vogue proclaimed, "It's impossible not to fall deep into the dark yet alluring world of sorcery and secret assassins." A dangerous and eerie fantasy about murder, shocking discoveries, and fiery star-crossed romance that readers of Cinda Williams Chima and Robin LaFevers won't be able to put down.
Ileni is losing her magic. And that means she's losing everything: her position as the rising star of her people, her purpose in life, and even the young man she loves. Sent to the assassins' cave hidden deep within the mountains, she expects no one will ever hear from her again. The last two sorcerers sent died within weeks of each other. Accidents? Or something more sinister? As Ileni navigates the dangers—both natural and human—of the caves, she'll discover secrets that have been kept for decades. And she'll find an ally in Sorin, the deadly young man who could be the assassins' next leader. With Sorin determined to protect her, sparks—magical and romantic—will fly. But will even he understand the choice she must make in the end?
My Review
A true fantasy story that was well paced and intriguing. Death Sworn has strong characters and an story that keeps the reader wondering right to the end. The tale ends with Ileni leaving for more adventures and one hopes there will be a sequel in the works.
Ileni is just what a good fantasy novel needs: a strong female protagonist. She is likable, determined and just a bit mysterious. The fact that she is more experienced in the world than the assassin, Sorin, is a well balanced twist.
I very much enjoyed this book and would definitely recommend it! I hope Leah Cypess is planning on a sequel as I feel the story has just begun.
Buy link: http://www.amazon.ca/Death-Sworn-Leah-Cypess/dp/0062221213
Share



Leah Cypess
" target="_blank">



---