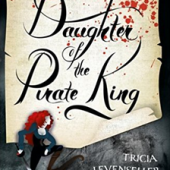 Sent on a mission to retrieve an ancient hidden map―the key to a legendary treasure trove―seventeen-year-old pirate captain Alosa deliberately allows herself to be captured by her enemies, giving her the perfect opportunity to search their ship. More than a match for the ruthless pirate crew, Alosa has only one thing standing between her and the map: her captor, the unexpectedly clever and unfairly attractive first mate Riden. But not to worry, for Alosa has a few tricks up her sleeve, and no lone pirate can stop the Daughter of the Pirate King.
My Review
This was a fun story. Following the adventures of the ever fearless Alosa, daughter of the Pirate King, the reader is taken on a wild ride.
A true girl power story, Alosa doesn't allow any man to save her; she can save herself, thank you very much. She is captain of her own ship of mostly female pirates and she has plans to one day replace her father as ruler of all pirates. But first she has to get through this escapade!
Entertaining with plenty of adventure and action, this was a fun read.
Buylink: https://www.amazon.ca/Daughter-Pirate-King-Tricia-Levenseller/dp/1250144221/
Share



Tricia Levenseller
" target="_blank">



---