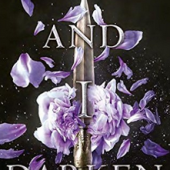 NO ONE EXPECTS A PRINCESS TO BE BRUTAL. And Lada Dragwlya likes it that way. Ever since she and her gentle younger brother, Radu, were wrenched from their homeland of Wallachia and abandoned by their father to be raised in the Ottoman courts, Lada has known that being ruthless is the key to survival. She and Radu are doomed to act as pawns in a vicious game, an unseen sword hovering over their every move. For the lineage that makes them special also makes them targets.
Lada despises the Ottomans and bides her time, planning her vengeance for the day when she can return to Wallachia and claim her birthright. Radu longs only for a place where he feels safe. And when they meet Mehmed, the defiant and lonely son of the sultan, who's expected to rule a nation, Radu feels that he's made a true friend—and Lada wonders if she's finally found someone worthy of her passion.
But Mehmed is heir to the very empire that Lada has sworn to fight against—and that Radu now considers home. Together, Lada, Radu, and Mehmed form a toxic triangle that strains the bonds of love and loyalty to the breaking point.
My Review
I could not put this book down. I read it in two days (and that's pretty fast considering how busy I am right now). To say I enjoyed it is an understatement.
So what did I like? First, the plotline and setting are unique. Set in 15th Century Ottoman Empire, Lada,  the main character, has few options due to the fact that she had the misfortune to be born a female. From the start of the book, when Lada is a very small child, the reader can see she is headstrong and will revolt against societal norms for women. And we are not disappointed. Lada trains with the Janissaries, befriends the boy who will be Sultan (causing him to fall in love with her along the way) and rebels in every way possible.
Lada is a character who is impossible not to love … and to hate. But she is not the only complex and fully developed character in the novel. Her younger brother Radu is a gentler, more compassionate character but one the reader can't help empathizing with and loving. And the young sultan, Mehmet, is another character that draws the reader in. He, like the reader, can't resist the draw of Lada.
Beyond setting and character development, this book is fast paced and filled with plot twists. One never knows what will happen next.
The first book in a trilogy, I will be looking for the next instalment as soon as it is released!
Buylink: https://www.amazon.ca/I-Darken-Kiersten-White-ebook/dp/B0165I0U96
Share



Kiersten White
" target="_blank">



---