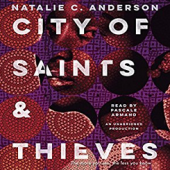 In the shadows of Sangui City, there lives a girl who doesn't exist. After fleeing the Congo as refugees, Tina and her mother arrived in Kenya looking for the chance to build a new life and home. Her mother quickly found work as a maid for a prominent family headed by Roland Greyhill, one of the city's most respected business leaders. But Tina soon learns that the Greyhill fortune was made from a life of corruption and crime. So when her mother is found shot to death in Mr. Greyhill's personal study, she knows exactly who's behind it.
With revenge always on her mind, Tina spends the next four years surviving on the streets alone, working as a master thief for the Goondas, Sangui City's local gang. It's a job for the Goondas that finally brings Tina back to the Greyhill estate, giving her the chance for vengeance she's been waiting for. But as soon as she steps inside the lavish home, she's overtaken by the pain of old wounds and the pull of past friendships, setting into motion a dangerous cascade of events that could at any moment cost Tina her life. But finally uncovering the incredible truth about who killed her mother – and why – keeps her holding on in this fast-paced nail-biting thriller.
My Review
I loved this book primarily because it was SO different from other young adult books on the market. Tina is an intriguing character. She's tough but sensitive and she's been through hell. It is easy to root for her success in her desire to avenge her mother's death (and to believe she can actually pull it off).
Anderson transports the reader to a variety of settings from the streets of Kenya to the Congo. Tina leads us on a thrilling adventure that will have you biting your nails and questioning whether she really knows what the truth of her story is. The book ends with a finale worthy of Hollywood.
Highly recommend – a must read!
Buylink: https://www.amazon.ca/City-Saints-Thieves-Natalie-Anderson/dp/0399547584/
Share



Natalie C. Anderson
" target="_blank">



---