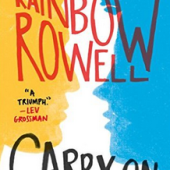 Simon Snow is the worst Chosen One who's ever been chosen.
That's what his roommate, Baz, says. And Baz might be evil and a vampire and a complete git, but he's probably right.
Half the time, Simon can't even make his wand work, and the other half, he starts something on fire. His mentor's avoiding him, his girlfriend broke up with him, and there's a magic-eating monster running around, wearing Simon's face. Baz would be having a field day with all this, if he were here–it's their last year at the Watford School of Magicks, and Simon's infuriating nemesis didn't even bother to show up.
My Review
Okay, I started this book ages ago and got about halfway through it and lost interest. But then a few weeks ago I saw it popping up on my Instagram feed and I thought, hey, I was reading that one! And I did a bit of research and discovered that this book was written as a spin off from Rainbow Rowell's Fangirl and suddenly Carry On made sense to me.
I haven't read Fangirl (yet) so I was a bit perturbed by the plot line of Carry On, which was a Harry Potter, Twilight mashup with a homoromantic twist. The latter fact didn't bother me (in fact, it was what hooked me back into the book) but the rip off of the two other books really irritated me. THEN when I realized that was the point (some have said Carry On is a commentary on fan fiction) the book became a lot more intriguing to me. Once I got past that fact, I really ended up enjoying the book.
This definitely a fun read. Just be warned of its fan fiction roots and you'll not get bogged down as I did. It actually ends up being a really great book in the end.
Buylink: https://www.amazon.ca/Carry-Rainbow-Rowell/dp/1250049555
Share



Rainbow Rowell
" target="_blank">



---