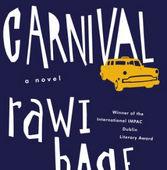 In the Carnival city there are two types of taxi drivers — the spiders and the flies. The spiders patiently sit in their cars and wait for the calls to come. But the flies are wanderers – they roam the streets, looking for the raised hands of passengers among life's perpetual flux.
Fly is a wanderer and a knower. Raised in the circus, the son of a golden-haired trapeze artist and a flying carpet pilot from the East, he is destined to drift and observe. From his taxi we see the world in all its carnivalesque beauty and ugliness. We meet criminals, prostitutes, madmen, magicians, and clowns of many kinds. We meet ordinary people going to extraordinary places, and revolutionaries trying to live ordinary lives. Hunger and injustice claw at the city, and books provide the only true shelter. And when the Carnival starts, all limits dissolve, and a gunshot goes off . . .
My Review
If you pick up Carnival, I think you should be prepared for what you are about to read. This definitely isn't a young adult fantasy novel (as some of the books that I usually review are). This is a wonderful mature piece of Canadian Literature.
The protagonist, Fly, is a complex character. The plotline follows his thought processes, which  means the story jumps from anecdote to side story to old memory and then back to the present steeped in the confusion of the ongoing Carnival, which is currently transforming the city much to Fly's continued irritation (despite the increase in taxi business).
Reading Carnival was like stepping into the mind of a fascinating and slightly disturbed character; one I  would probably detest in real life. But at the same time, I couldn't help being intrigued by the many facets of Fly. His philosophy, his obsession with books and his father's flying carpet along with his ability to really see the multitude of people in his city, much of it from the seat of his taxi cab. Unlying all that is a deep compassion for the human condition and a longing for "justice" … whatever that may mean.
Overall this was a raw, real view of humanity. I could not put this book down. I highly recommend you put it on your "to be read" list.
Buylink: https://www.amazon.ca/Carnival-Rawi-Hage/dp/0887842356
Share



Rawi Hage
" target="_blank">



---