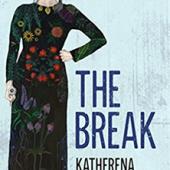 When Stella, a young Métis mother, looks out her window one evening and spots someone in trouble on the Break ― a barren field on an isolated strip of land outside her house ― she calls the police to alert them to a possible crime.
In a series of shifting narratives, people who are connected, both directly and indirectly, with the victim ― police, family, and friends ― tell their personal stories leading up to that fateful night. Lou, a social worker, grapples with the departure of her live-in boyfriend. Cheryl, an artist, mourns the premature death of her sister Rain. Paulina, a single mother, struggles to trust her new partner. Phoenix, a homeless teenager, is released from a youth detention centre. Officer Scott, a Métis policeman, feels caught between two worlds as he patrols the city. Through their various perspectives a larger, more comprehensive story about lives of the residents in Winnipeg's North End is exposed.
My Review
The Break is Katherena Vermette's debut novel. This book was a 2016 Governor General's Literary Prize Finalist, and won or was a finalist for a multitude of other awards. I was keen to read what this MFA graduate from UBC's creative writing program had produced and I wasn't disappointed.
As the book blurb, above, indicates, Vermette's novel takes the reader into the lives and hearts of group of family and friends. Through a shifting narrative, the reader soon realizes that the characters and their actions are woven in an intricate tapestry. As two young family members are brutally attacked, the history of this group of family and friends and their complex lives begins to unravel. When the multiple truths are finally revealed, the reader is left feeling raw and oddly at peace.
There are many strengths in Vermette's novel. Her clear and true voice, her depictions of the heartbreaks and tragedies that shadow her characters' lives, and the ultimate strength of family bonds that tie these imperfect people to each other, their heritage and their land. Katherena Vermette's gift of story telling is profound. Her characters are all imperfect and real. As she takes the reader through each of their lives,  one can't help developing sympathy, understanding, and fondness for them. In addition, the unfairness and struggle the women (and men, too) in her novel face is difficult to read. The female characters are imperfect, strong, and beautiful. It doesn't take long for the reader to develop a kinship with them.
While it is difficult to find a weakness in this magnificent novel, I have talked to some people who found it difficult to keep up with the leaps between characters. At first this was a challenge for me as well. At one point early on in my reading I became confused as to which character was which. But the large cast of characters is absolutely necessary for the reader to understand the ultimate message in Vermette's work. And as one continues reading, the confusion evaporates as each character develops into a complete person, distinguishable and important to the overall story.
This is not an easy book to read and that is what makes it so powerful. The truth and honesty in Vermette's words is soul shattering. I highly recommend you add this to your reading list.
Buylink: https://www.amazon.ca/Break-Katherena-Vermette/dp/1487001118/
Share



Katherena Vermette
" target="_blank">



---