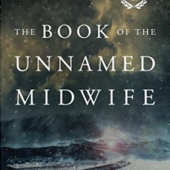 In the wake of a fever that decimated the earth's population—killing women and children and making childbirth deadly for the mother and infant—the midwife must pick her way through the bones of the world she once knew to find her place in this dangerous new one. Gone are the pillars of civilization. All that remains is power—and the strong who possess it.
A few women like her survived, though they are scarce. Even fewer are safe from the clans of men, who, driven by fear, seek to control those remaining. To preserve her freedom, she dons men's clothing, goes by false names, and avoids as many people as possible. But as the world continues to grapple with its terrible circumstances, she'll discover a role greater than chasing a pale imitation of independence.
After all, if humanity is to be reborn, someone must be its guide.
My Review
This book was really different than what I usually read. First, it's not a YA novel but an adult dystopian. At first I wasn't sure if I was going to stick with it but I'm glad I did.
The futuristic world is bleak and the people the midwife encounters are those that live in the extremes. This was almost a cross between The Handmaid's Tale (the book) and The Walking Dead (the TV series) for me.
The nameless main character can't stay in one place long, nor does she seem to want to. As we follow her through her new life in this decimated world, we slowly unravel what her life was like before, what happened to her and the planet, and what kind of future she might have.
A unique read. Buylink: https://www.amazon.ca/Book-Unnamed-Midwife-Meg-Elison/dp/1503939111
Share



Meg Elison
" target="_blank">



---