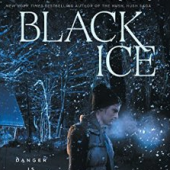 Danger is hard to resist in this sexy thriller from Becca Fitzpatrick, the New York Times bestselling author of the Hush, Hush saga.
Britt Pheiffer has trained to backpack the Teton Range, but she isn't prepared when her ex-boyfriend, who still haunts her every thought, wants to join her. Before Britt can explore her feelings for Calvin, an unexpected blizzard forces her to seek shelter in a remote cabin, accepting the hospitality of its two very handsome occupants—but these men are fugitives, and they take her hostage.
Britt is forced to guide the men off the mountain, and knows she must stay alive long enough for Calvin to find her. The task is made even more complicated when Britt finds chilling evidence of a series of murders that have taken place there…and in uncovering this, she may become the killer's next target.
But nothing is as it seems, and everyone is keeping secrets, including Mason, one of her kidnappers. His kindness is confusing Britt. Is he an enemy? Or an ally?
My Review
I loved this book! The synopsis is a bit misleading – the book was much more a thriller than a romance. The tension and danger level kept me turning the pages. I'm not a big murder mystery fan but there was enough intrigue in this story that I was fully engaged trying to unravel the mystery and worrying about Britt's safety. The girl power thread of the story, wherein we see Britt transform from a near helpless spoiled girl to a young woman capable of fending for herself, was an added bonus.
I'm usually a fantasy and dystopian fan but I strong recommend you check out Black Ice. Buy link: http://www.amazon.com/Black-Ice-Becca-Fitzpatrick/dp/1442474262#
Share



Becca Fitzpatrick
" target="_blank">



---